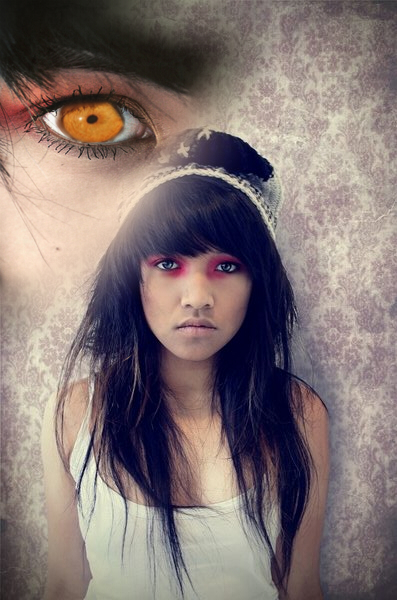 Full name: Kiara Ortiz (Or-tee-zz)
Any nicknames?: Kiki
Gender: Female
Age: 16
Years at Camp: 9 months
God and mortal parent: Her father is Luis Ortiz and her step-mother is a woman named LiCai Ming-Ortiz. Her god parent is Sekhmet, the Egyptian goddess of lions, fire, revenge and healing.
Date of birth: July 23, 1995
Place of birth: Auguadilla, Puerto Rico
Appearance: She is of average height at 5'6" and weighs around 112lbs. She has a very lean build, not very developed in the chest area with only a few curves. She has very long legs and fingers, with a beauty mark on the side of her nose and a few freckles dotting her cheeks. She has a few scars on her legs from falling along the coast over the years, along with a long scar on her chin from falling off a boat onto a dock and cutting her chin open, requiring stitches. Her hair is naturally very dark, though lightens to brown when exposed to much sunshine.
Personality: Kiara is a very outgoing and curious girl, with a love for adventure and trying new things. She's very intuitive when it comes to the feelings of others and tends to subconsciously realize when someones upset. She's a very friendly girl, if not a tad quirky and odd, but requires constant mental stimulation. When she's bored she becomes very grumpy and snarky. She is not a fan of rain or dreary days in general, and loves a good mystery. She has an inherent desire to protect those 'in need', so most of her friends are those she sees as being unable to protect themselves, along with having to be interesting. She tries to change her life up often and is not a fan of habits. She is a very loyal girl with a very unique take on the world and the things she sees. She's creative and rarely gets mad, though tends to be overprotective of her friends and can get defensive when it comes to them.
Style:
http://www.polyvore.com/cgi/set?id=78863898
Powers**: She has various powers – one of them being a type of berserker rage she can fall into in states of extreme emotion. Her nails elongate slightly along with her incisors, and her eyes change from a dark shade of blue-grey to that of a lions. Her strength, speed and agility increase, at the loss of her rational mind. All she can think of is
bloodbloodblood
. It is extremely hard for her to stop when she gets into this mode, and she can't differentiate friend from foe. Once she manages to calm down she normally has a few broken bones, falls unconscious and is drained for up to a week.
Another power of hers is the minor ability to control fire – while she can not use it without some kind of source, be it a spark or a lighter, she can manipulate it once she has it. Increase it, make it move or go out, and she can touch it without being burnt as long as its not insanely hot. Manipulating fire doesn't take too much out of her, though if it's a larger amount of it or if she has to withstand extreme heat she will begin to become dehydrated and dizzy.
Her final ability is that of minor healing abilities. Sekhmet, though a violent Goddess, was however also known as a healer who set and cured broken bones, therefore giving Kiara the power to heal injuries up to broken bones, such as bruises, scratches, and even small colds. The number of times she can heal depends on various things – the severity of the injury, how much sleep she's gotten recently and whether or not shes eaten. She can heal smaller injuries or illnesses fairly easily and without loosing much energy, though broken bones and such can cause her to pass out and in some cases make her very ill.
Fatal Flaw*: Curiosity – it occasionally causes her to get into situations she can't get out of, leaving her seriously injured or causing her to loose friends or family.
Flaws*: She is extremely adventurous and brave which tends to be bad traits, as they get her into trouble. She doesn't know when to turn away or back down. She is very overprotective of her loved ones, which often makes them uncomfortable, and tends to underestimate her opponents. She has a habit of letting her imagination get the best of her, and has difficulties concentrating due to ADHD. She also has a very large appetite.
Weapon(s): Her weapon of choice are a pair of fingerless gloves with celestial bronze 'claws' that elongate when the Greek word for Claw is said. It was made by a friend of hers who was a son of Hephaestus, who has since then left camp. It is also the reason the word is Greek.
Pets: She's always wanted one, but doesn't have any since she travels so much.
Talents/Skills: She has a large and strange variety of talents and skills. She is a very good map-reader, can pilot small planes as long as she has help with take offs, is very good at skiing and cooking Spanish cuisine, is a rather good at white-water rafting, and also speaks a few languages. She can speak Spanish, English and Chinese fluently, and knows enough German, Greek and Japanese to get her point across. She knows a little bit of latin too, but not much. She also has the strange ability to fit an ungodly amount of things into suitcases or backpacks.
RP Example*: "Kiara!" The deep baritone voice of Papa called. I glanced back from my spot on the pier where I had been feeding the ducks small pieces of bread to see the man standing near our house for the moment, a beach house with light blue walls and a pale cream roof. Papa was dressed in one of his
really
awful Hawaiian shirts, along with a pair of khaki shorts and sandals.
"Yeah?" I questioned, adjusting my beanie – this one rainbow colored – as it began to slip into my line of sight. Papa gestured behind him.
"Once LiCai's done getting changed, were going to go hiking up to the bluffs – are you coming?" He asked and I nodded, pulling the last slice of bread into three before throwing into the water, turning around as I heard the ducks scrambling for it.
"Yeah, I'll be there in a sec."
Biography*: Luis Ortiz was a moderately wealthy man – a photographer for National Geographic. Since the young age of 23, he left his home in Puerto Rico to travel the world. He visited Alaska to see the Great Lights, Pulpit Rock in Norway, Lake Nakuru in Kenya, and even the Valley of the Kings in Egypt. It was there that he first met her – a woman he knew by the name Halina. They were the only two people at one of the natural attractions and began to speak. Over the two months he fell in love with her, and they spent a night together before he left for India. Nearly a year later, outside of his hotel room was a dark-skinned baby girl. He took her to the hospital, flabbergasted as the blood-tests showed her as his biological daughter. Still, he'd always wanted a family, so he took two years off of traveling to raise her before they left once more.
Kiara was raised immersed in different cultures, and grew to love and cherish the diversity of people. She grew into a curious girl, inquisitive, bright and a lover adventures. When her father was married to a chinese author, she took it in swing. Though as Kiara grew up, she knew- knew she was different. She always thought her father knew too, and when she was attacked by a hellhound and shortly after saved by strange boy – satyr – thy accepted it and she went to CHB.
Other Notes: The bio is just bleh. She's allergic to radishes