Full name: Cethe Ameilia Shay (Pronounced Seeth)
Any nicknames?:
Age: 16
Years at Camp: None
God and mortal parent: Chronos, Maria Shay.
Appearance:

Eye color: Black
Hair: Long, and wavy
Height: 5'6"
Body type: Really skinny
Distinct markings: She has a scar going down her arm from street fighting.
Personality(Are they angry, nice, friendly, unique, violent?): Violent, b*tchy, sarcastic
Style: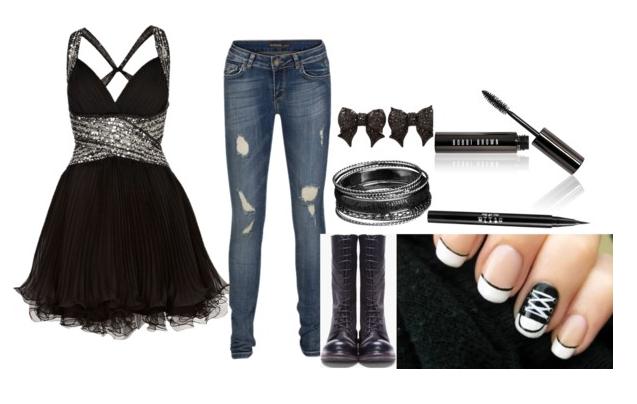 Powers**: Can control time 25-30 times a day and teleport most of the day.
Fatal Flaw*: Egotistic
Flaws*: Over- Confident, B*tchy, some moments she can be very over emotional.
Weapon: She is very skilled with her black painted bow and arrows, the arrows are a gold color, but they are bronze. She also has two bronze daggers she keeps by her side at all times.
Pets: none.
Talents/Skills: Cethe has a great fashion sense, and is good at playing base guitar. She is also very good at martial arts, and nasty street fighting.
RP Example*: The monster was ready, but what it didn't know, is I was ready hours ago. My daggers flew out from my sleeves and into my hands. I outstreched my arms, waiting. I was waiting for the hellhound to charge at me, when it did, it would surely be dead. I didn't want to give a s*it, about the fugly mutt.
Biography*: Cethe really didn't like all the fame her mother had, it just.. overwhelmed her. When she turned 12, she ran off. She gave up on grown ups trying to raise her, she went out on her own. When she got older, she joint this street fighting club. Usually, she would have to wear a hood because boys wouldn't want to fight a
girl
. Eventually, she kick all their a**es and raised alot of money. She lived in a small apartment in New York when she was 14. At 15, she learned to drive a car, at 16, she learned it wasn't that bad when people die. Then, one day, a monster came and burn't down the hotel she lived in, in which, had all her money and pretty much everything but her weapons. Eventually, she ended up comming to camp.
Other Notes: